Overhauling and Refurbishment
Overhauling and Refurbishment are the key to keeping a Switchgear healthy.
We have been in the Overhauling business for over 15 years.
We have at hand an experienced technical support group.
We are capable of overhauling and refurbishing all types of ACB's, MOCB's, VCB's and SF-6 Breakers.
The PEPL team attends the breakers,for a particular product range, as they strip down the breakers to the bare minimum and then reassemble the parts, replacing the damaged and worn-out parts so that the breaker performs as good as new. The breaker is tested for the routine checks as per the standards before being put into service.All the major spare parts required during Overhauling and Refurbishment are supplied by us.
By carrying out periodical overhauling and routine maintenance by the users(whose staff are shown the critical maintenance procedures by us), we have been able to extend the life of the Switchgears at different installations even beyond the expected life.Our team carries out the Overhauling and Refurbishment works for breakers of TMG/VOLTAS, CROMPTON, JYOTI AND NGEF in LV and MV categories.
Wiring/Testing of VOLTAS SF-6CB.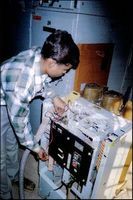 Refurbishment of 132KV RADE-KONKAR ABCB Outdoor Breaker.